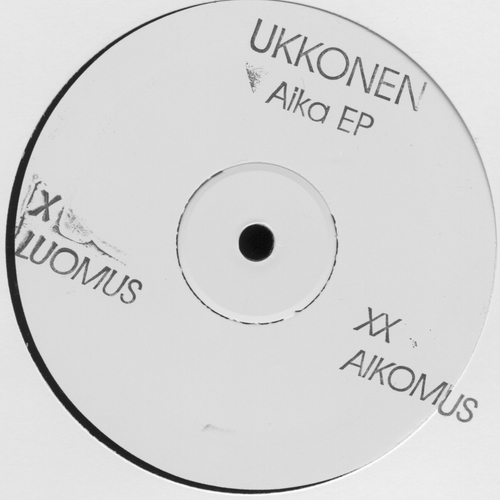 Aika
Available Formats
Tracks
Price
Buy
12" Vinyl EP
2 tracks

£

7.99

Download EP (

MP3

)
2 tracks

£

1.58
Description
Ukkonen - Aika
Limited to 300 handstamped 12" vinyl

Ukkonen - Aika EP
Out 31/3/2014 on ltd. handstamped 12" vinyl

1. Luomus
2. Aikomus

"A solution to the problem of dance music" - The Wire

Finnish "artic-house" producer Ukkonen - released his second album, 'The Isolated Rhythms Of..' through No Pain In Pop in late 2013. The 'Aika' EP marks a further progression of his sound; a pair of twelve mins plus tracks centred around themes of growth and decay. In the words of the producer:

Luomus takes a chord sequence and deconstructs it, whilst slowly constructing a rhythmic grid around it. Both elements then break down further before settling into a complex texture with multiple elements all working at different speeds and on different paths. This track also moves from synthetic sounds to acoustic ones.

Aikomus starts with a lonely call that receives no reply. An uneven groove kicks in, contrasting harmonies with the call, but it slowly decomposes. Out of the darkness, a distant reply is received and the beat kicks back in, before calming to warm tranquility and finally cold silence.