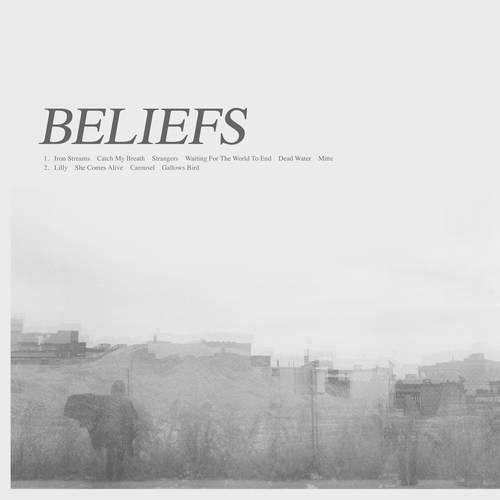 Beliefs
Available Formats
Tracks
Price
Buy
12" Vinyl Album
10 tracks

£

12.00

Out of stock

CD Album
10 tracks

£

8.00

Download Album (

MP3

)
10 tracks

£

7.90

Download individual tracks
From £0.79
Description
Beliefs - Beliefs
Toronto's Beliefs were formed in late 2010 when early 20-somethings Josh Korody and Jesse Crowe met at ex-bassist Pat McCormack's birthday party and bonded over their love of The Jesus and Mary Chain, Slowdive, and My Bloody Valentine. Co-songwriters and vocalists Korody, in the midst of building his now revered Candle Recording Studio in downtown Toronto, and Crowe quickly began assembling a cultured, heady collage of sounds around each other's tracks, and began gigging under the name Beliefs.

Using their seminal influences as a catalyst rather than template, their self-titled debut album is a frighteningly assured and expansive record - a spiky, cerebral cherrypick of art-rock, noir and shoegaze.

Tracks such as 'Carousel' recall The Velvet Underground or Beach House's more operative moments; 'Gallows Bird' last decade's high water marks Women or Deerhunter; 'Strangers' a proto-punk Sonic Youth; and 'Dead Water' a baroque Warpaint. Yet a complete listen to the record will prove more illuminating than any of these reference points. Hinging on Korody's expert, eardrum-close production and some deceivingly sparse, strict instrumentation, Beliefs is a direct and full embodiment of the spirit of independent modern rock music.

Already deep into creating their second album, Beliefs will extensively be touring Europe and North America – including dates at March's SXSW - in support of their self-titled full length debut to be released 4/3/2013 via cult London label No Pain In Pop (Grimes, Echo Lake, Doldrums, patten, Nite Jewel, Halls, Forest Swords).

Reviews
LP WILL SHIP START APRIL 2013
OUR APOLOGIES. THIS DELAY IS CAUSED BY A MANUFACTURING ISSUE.
Tracklisting
12" Vinyl Album (NPIP033LP)
Beliefs

- Iron Streams

Beliefs

- Catch My Breath

Beliefs

- Strangers

Beliefs

- Waiting for the World to End

Beliefs

- Dead Water

Beliefs

- Mitte

Beliefs

- Lily

Beliefs

- She Comes Alive

Beliefs

- Carousel

Beliefs

- Gallows Bird
CD Album (NPIP033CD)
Beliefs

- Iron Streams

Beliefs

- Catch My Breath

Beliefs

- Strangers

Beliefs

- Waiting for the World to End

Beliefs

- Dead Water

Beliefs

- Mitte

Beliefs

- Lily

Beliefs

- She Comes Alive

Beliefs

- Carousel

Beliefs

- Gallows Bird
Download Album (NPIP033)