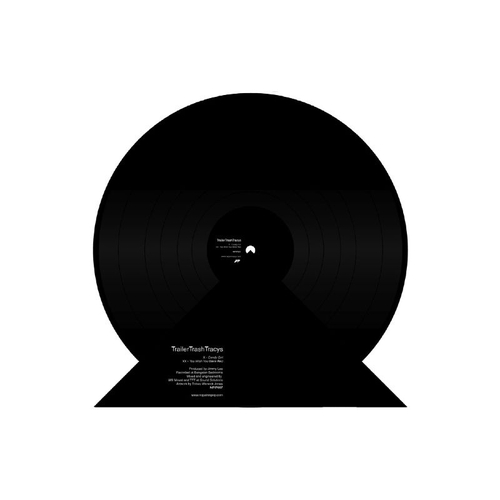 Candy Girl
Available Formats
Tracks
Price
Buy
7" Vinyl Single
2 tracks

£

5.00

Out of stock
Description
Trailer Trash Tracys - Candy Girl
An inherent contradiction, the tension between two forces that are unexpectedly tied together, is often the source of the power of great art. This is especially true in music; indeed, many of the most thrilling bands and records of our generation have shown the excitement and beauty that can often spring from such internal paradoxes.

Such is the case with Trailer Trash Tracys, for if ever there was a new band that straddled the line between darkness and light, of dissonance and melody, it is this one. Hailing from London and only a few gigs old, they create discordantly beautiful, dreamily fragile music which always seems to be hovering perpetually on the brink of collapse. Absorbing everything from the woozy atmospherics of shoegaze to even the SoCal surf pop of Dick Dale and the Shadows, the band conjures a lo-fi maelstrom of duelling contrasts like no other. The real rub, however, comes with Suzanne's vocals, which sound like ghostly transmissions from another metaphysical plane, all ethereal angel sighs which seem to settle on the music like a fog at dusk. The overall effect is a bewitching one, as they twist 50's pop conventions inside out on "Candy Girl", and somehow channel the spirits of both Nico and Joe Meek simultaneously on the starkly beautiful love song "You Wish You Were Red".

Reviews
"Surges on an oceanic wash of foamy static that makes the Tracys' underlying melancholic persuasions all the more rewarding. Braced by Jimmy-Lee's dizzying guitar loop, Susanne Aztoria's mercurial, wearied vocal performance somehow manages to sound divine and nonchalant, devoid of the typical boredom and irony other lo-fi girls hang their coats on. There's no Beach Boys fetish, no snark-- just a fondness for the erstwhile days of unhealthy Stone Roses obsessions. Like Mazzy Star funneled through a tin-can phone, the Tracys have captured something both amorous and nostalgic, yet very grounded in the here and now."
Pitchfork
"Trailer Trash Tracys' amazing new debut single-of-the-year contender.. the overwhelmingly gorgeous '50s-pop-meets-'80s-nostalgia of "Candy Girl," and the moving, lo-fi shoegaze in the surf ballad "You Wish You Were Red"."
Gorilla vs. Bear
Tracklisting
7" Vinyl Single (NPIP007)
Trailer Trash Tracys

- Candy Girl

Trailer Trash Tracys

- You Wish You Were Red