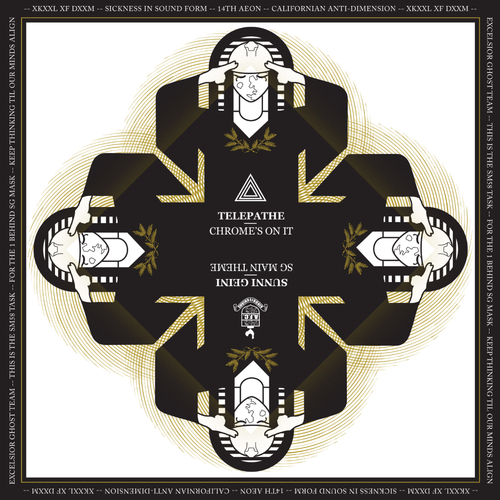 Chrome's On It / SG Main Theme
Available Formats
Tracks
Price
Buy
Download Single (

MP3

)
2 tracks

£

1.58
Description
Telepathe / Sunni-Geini - Chrome's On It / SG Main Theme
Released July 2008.

Debut single from Telepathe and Sunni-Geini.

"Their new single 'Chrome's On it' (out this week on South London's rather splendid No Pain in Pop label) is a beat-smart, hook happy slice of process pop that shares a slice of 7 inch vinyl with the equally ace 'SG Main Theme' by 'mysterious' new producer Sunn-Geini.
Sunni's beats are similar in feel to those of former glitch-hop (ugh) golden boy Prefuse 73, albeit infused with the spirit of the much missed J Dilla and the jittering rhythmic rolls of fellow South London shadow dweller Burial."
Reviews
"New London label No Pain In Pop get off to a great start with this superb limited 7", setting 'Chrome's On It' by hotly tipped Brooklynites Telepathe against a quality turn by South London band Sunni Geini. The David Sitek-produced Telepathe cut demonstrates exactly what's set tongues wagging about Telepathe: their adventurous brand of electro-psych has a real freshness about it but nevertheless maintains an irresistible pop front. Sunni Geini's contribution on the flipside is a sparkling slice of hip hop circuitry with plenty of heaviness in the beat, making for a rather different, but wholly complementary B-side, but inevitably Telepathe will be grabbing all the headlines. Get one while you can..."
Boomkat
"The whole 7 inch package can be broken down thus; Telepathe do hooks, Sunni-Geini does beats, No Pain in Pop release records. Right now there's few, if indeed any, doing any of those things better. Put them all together on one product and we're talking essential purchasing."
New Ears