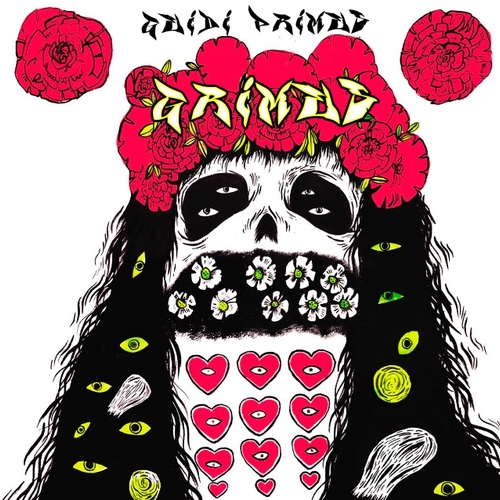 Geidi Primes
Available Formats
Tracks
Price
Buy
12" Vinyl Album
11 tracks

£

10.00

Out of stock

CD Album
11 tracks

£

12.00

Out of stock
Description
Grimes - Geidi Primes
Grimes – aka 22 year old Montréaler Claire Boucher - makes a special kind of weird pop which is far removed from any of that of her peers and extremely broad in it's references. Frequently beautiful, melancholic and scary but always immediate, her tracks are a peculiarly accessible mix of Broadcast, Bjork, Kate Bush and the codeine heavy beats of previous No Pain In Pop artist Nite Jewel.

Her debut record Geidi Primes is the synthesis of this unconventional, genre-bending approach to music. 'Gambang' is led by a playful sample and Boucher's chameleon like vocals; the melancholic 'Venus In Fleurs' pairs a post-rock guitar line with a Salem-style low end; and album standouts 'Avi' and 'Fyed Rautha Dark Heart' offer up two supremely catchy pop choruses.
Originally released by Montreal's Arbutus Records as a free download and cassette in early 2010, Geidi Primes is being re-released by renowned London label No Pain In Pop (Forest Swords, Nite Jewel, Echo Lake) in support of her European tour this autumn.

Tracklisting
12" Vinyl Album (NPIP024LP)
Grimes

- Caladan

Grimes

- Sardaukar Levenbrech

Grimes

- Zoal, Face Dancer

Grimes

- Rosa

Grimes

- Avi

Grimes

- Feyd Rautha Dark Heart

Grimes

- Gambang

Grimes

- Venus In Fleurs

Grimes

- Grisgirs

Grimes

- Shadout Mapes

Grimes

- Beast Infection
CD Album (NPIP024CD)
Grimes

- Caladan

Grimes

- Sardaukar Levenbrech

Grimes

- Zoal, Face Dancer

Grimes

- Rosa

Grimes

- Avi

Grimes

- Feyd Rautha Dark Heart

Grimes

- Gambang

Grimes

- Venus In Fleurs

Grimes

- Grisgirs

Grimes

- Shadout Mapes

Grimes

- Beast Infection