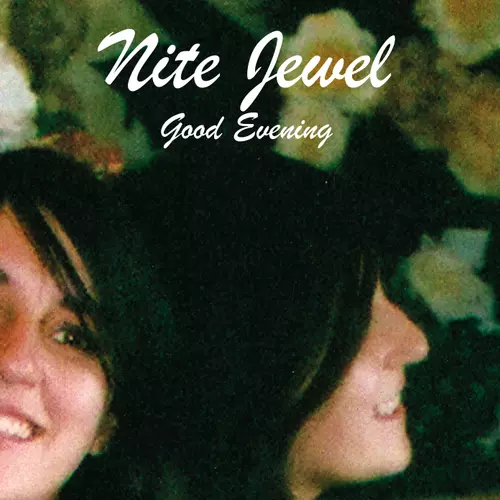 Good Evening
Available Formats
Tracks
Price
Buy
CD Album
10 tracks

£

5.00

Out of stock

Download Album (

MP3

)
10 tracks

£

7.90
Description
Nite Jewel - Good Evening
Occupying the twilit space between Ariel Pink's lo-fi avant pop and the codeine beats of Chromatics, Nite Jewel – the performing moniker of California native Ramona Gonzalez – brings a gloriously original new slant to the golden age of disco with "Good Evening", her debut record.

Although still a student at Occidental College in Eagle Rock, Los Angeles (coincidentally the alma mater of one Barack Obama), Gonzalez has been making music on an 8-track for a number of years now, slowly evolving from ambient pieces and sound and video installation art to her gradually writing proper songs with Cole M. Grieff-Neill, of Haunted Graffiti, and selling self-produced demo CDR's at shows. Eventually, her music – an evocative, bedroom studio take on dancefloor greats like Lisa Lisa & Cult Jam and Debbie Deb – caught the ears of one Johnny Jewel, head honcho of the venerated Italians Do It Better, who released her debut single "What Did He Say" on his label last year.

The easy metaphorical place to go with "Good Evening" is memory – the 10 songs here have the dusty, cobwebbed quality of your older cousin's 12" collection, but the lo-fi haze signifies more than an easy nostalgia – it resonates with a certain kind of universal L.A. gloom, ringed in smog, which seems to echo throughout the entire album, and ultimately ground it in the present. However, the music is anything but cold and detached – it vibrates with warmth, from the low hum of tape hiss to the way Gonzalez' ethereal vocals and humid analogue synths tips its hat to past greats like Arthur Russell, Sa-Fire and even Roxy Music. Ultimately, for what can be ostensibly termed dance music, "Good Evening" is a delicate, intimate affair, a beautifully sustained exercise in mood and tension, and far more precious and intriguing a record than most others at the moment.

Reviews
""Like the phrase 'Nite Jewel' itself, Good Evening is minuscule and precious..."
Pitchfork
"A understatedly great debut – in avoiding a simple homage to sounds that came and went a couple of decades ago, Gonzalez managed to imbue her music with a greater historical perspective. Understanding not only the place of pop hits but also the underground sounds that rose as a response, Nite Jewel's Good Evening slinks by on the strength of understated pieces like "What Did He Say," shuffling along with presets that, while originating in a wholly different era, still manage to sound remarkably of our time."
Dusted
"Good Evening is unbelievably catchy and vintage - ittered with a mixture of disco-ish tunes that range from highly danceable to mildly ambient all with the warm feeling of a bedroom studio. Nite Jewel makes sure to utilize every sound and cord available as the two mold brand new classics around barely audible vocals."
URB Magazine
"Nite Jewel is dance music's answer to hipster-hop house bullshit, a gracious reprieve from the try-hards of contemporary electronica. As an ardent detractor of that whole spazzy try-hard electro dance scene, I welcome more laid back fare like Good Evening with open and accepting arms. I want it to catch on. And Good Evening, with its deliberate pacing and relatively muted aesthetic, makes a good first impression. "Bottom Rung" establishes right away that Nite Jewel's prerogative is to be a sort of anti-dance dance album, setting a tone (dark and atmospheric, but not melodramatic or morose) that will, for the most part, carry on throughout the album. In the nightclub scene that is contemporary dance music—crowded as it is with eye-rolling ironists and pomo retro throwbacks, with their "borrowed nostalgia from the unremembered eighties," to quote James Murphy—Nite Jewel's debut stands out because it isn't fixated on being chic; it doesn't want to affect the look of boredom and cool, cultivated distance. It just does its own thing, at its own pace, from ten till last call without so much as sending a text or updating Twitter. This, finally, is something I can get behind."
Cokemachineglow
Tracklisting
CD Album (NPIP008CD)
Bottom Rung

Suburbia

What Did He Say

Weak For Me

Heart Won't Start

Universal Mind

Artificial Intelligence

Let's Go (The Two Of Us Together)

Chimera

Lover
Download Album (NPIP008D)