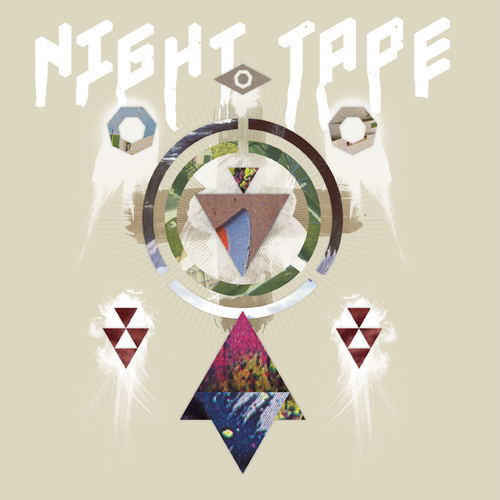 Night Tape EP
Available Formats
Tracks
Price
Buy
7" Vinyl Single
4 tracks

£

4.00

Download Single (

MP3

)
4 tracks

£

3.16
Description
Gentle Friendly - Night Tape EP
Released November 2008

Gentle Friendly are David (vocals, keys) and Daniel (drums, organ). They found some high grade coffee and a drum kit in a skip in their adopted home of Peckham, South London. Matching these with some antique keyboards and samplers, they began to play songs in their basement until their neighbors chased them overground with knives.

Night Tape was recorded in early 2008 on a makeshift studio during a five day retreat to a countryside cottage. The tracks meld cutting keys and rolling drums with a backdrop of loops and feedback, transcending their influences ("anything screw'd & chop'd") to create something gleefully disjointed and chaotic.


Reviews
Nearly a year it's taken for Gentle Friendly's 'Night Tape' to be released. The tracks have been available for listens only on their MySpace and have been played and honed to perfection during their live shows. Now, you can take them home with you! Their sound, a sound which is fast growing on the south east London scene, has been compared to that of New York's Animal Collective or to Baltimore's Dan Deacon. The Friendly duo deny being inspired by such artists though, as David (vox) explains: "I'd never heard of Animal Collective 'til we'd been assimilated to them and Daniel played me some of their stuff." The EP is complied of four, now well known to some, tracks. Each one has its own distinctive riff, well, noise. 'Five Girl Night' melds voice and drums: as Daniel hits, David shrieks over the softer keys. 'XXXmas' plays more on David's vocals. His voice drops low and heavy to recount the darker lyrics, "Raising the dead never worked", before climbing back up to its more familiar, gentler ring. The start of 'Sky Burial' sounds like one of those electric pencil sharpners going at it, before breaking out into fervent banging and rhythm. Because that's what Gentle Friendly is: harmony in ugly distortion. 'Ride Symbols' illustrates this as perfectly as is possible.
9/10 THIS IS FAKE DIY
The latest offering from the south London anti-hit factory that is No Pain In Pop – quite the up-and-coming label and promoters – is a too-brief gem from noise-pop duo Gentle Friendly, a pair whose music transcends conventions to arrive at a puzzling end product that's as blissful as it is beguilingly bombastic.
Coming in at just four tracks, the longest of which runs for only two-and-a-half minutes, 'Night Tape' showcases an act, like their label, obviously on the rise. With touchstones including Animal Collective, HEALTH and Fuck Buttons, their esoterically rich output isn't without its influences, but David and Daniel – for those are their names – twist the familiar avant into engrossing patterns anew.
'Five Girl Night' kicks off proceedings, a delicately fuzzing opening shattered by vocal shrieks and percussive excess before drones wander off the map and everything becomes a glorious whole of shimmering volume and snake hips. What it starts, 'XXXMas' continues, here cut-and-pasted effects layered atop frantic sticks-on-skins sweatiness. Discernable (well, sensible) vocals are in limited supply, but like the aforementioned trio of acts referential, they're here to fit the music, not to tell a story unrelated to the sounds around it. Fans of Deerhoof and even Gang Gang Dance will find kicks to be had here, too. We're not suggesting Gentle Friendly toy with the nonsensical – everything here is very deliberately arranged. The point is that vocals are no afterthought; they're as much an instrument as the drums, organ and keys. 'Sky Burial' makes this clear, sonic peaks and troughs scaled and plumbed by David's Liars-recalling growls and shocked-panther shrieks. Come 'Ride Symbols', the EP's closer, a taste is well-settled: one that's sweet, but also deep of flavour beyond mere sugar-rush quick-fixes. Indeed, it's a taste addictive – a follow-up release can't come quick enough. Be sure to begin charting Gentle Friendly's successes now, as soon they're bound to have found a plain of recognition beyond us mere mortals.
9/10- CLASH MAGAZINE
I was talking with some industry types the other night, and they reckoned the whole Animal Collective/Holy Fuck sound was going to be big next year. If that's true, then Gentle Friendly is a band you need to get behind right now, as these guys will be the toast of Shoreditch in 6 months. Comprised of four songs that the group have been bandying around for a little while now, 'Night Tapes' is Gentle Friendly at their schizophrenic best, with songs that morph from 'nails down a blackboard' noise into amazing, hypnotically rhythmic pop songs that remind me of PIL. We don't say this often, but buy this record..
SPOONFED- SINGLE OF THE WEEK
Beware, children at play__Teh interweb has become a leviathan of creation and distribution that devours and regurgitates music, in its bloated belly a million weird kids dwell putting together songs with bits of technology, the walls of the beast's intestines are a fertile ground where a thousand DIY alien flowers bloom, the outcome of complicated, often random processes of cross pollination. However no matter how abundant software and hardware have become, and the energy of the youth can be, talent and that blinding spark of genius we are always looking for remain scarce commodities, and in all the colourful harvest only the mutated scents of a few specimen with the latter endowed seduce us during our search past the cthonian arch of the beast's gaping jaws, here are some artifacts we found, this is crazy music made like it was the tomorrow, because it is the tomorrow, enjoy!__Gentle Friendly's astounding music crashes through the door of that log cabin where you were on holidays reading old school Fantastic Four comic books and listening to 90s tapes trying to put yourself together after your last romantic disaster, suddenly they are in the place like some bear with wise eyes coming out of the shadows of the unexpected stomping with the fierce joy of Parts and Labor, it slumbers mighty into your kitchen and grabs all the sweets in the bowl, turns around, gobbles the sweets and walks away leaving a whiff of the Animal Collective in the air, all of this before you have even time to say 'yo Bear-'.__You have no more sweets now, but you are feeling better and ready for another romantic disaster, say thank you Gentle Friendly, best UK band I've heard (with Fuckbuttons and Copycats) in a very long time.
20 JAZZ FUNK GREATS
Tracklisting
7" Vinyl Single (NPIP004)
Gentle Friendly

- Five Girl Night

Gentle Friendly

- XXXmas

Gentle Friendly

- Sky Burial

Gentle Friendly

- Ride Symbols
Download Single (NPIP004)